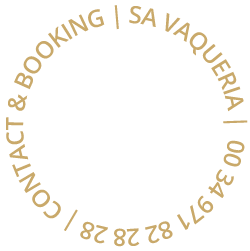 The country house Sa Vaqueria
with 14.000 m2 has been transformed into a unique rural cottage in Porto Cristo, Majorca.
Built in the middle of an olive grove and surrounded by lush gardens where the star is the bougainvillea, the undeniable beauty of the place does not go unnoticed by our guests.
Our charming hotel has nine newly refurbished apartments, all decorated in a rustic majorcan style but with the comfort of modern life, ensuring a unique stay.
Nine different apartments
but with a single maxim, ensuring your comfort respecting the nature of the property that names the cottage.
They are designed for you to enjoy the peace of mind provided by their idyllic location but without forgetting the comforts to which we are accustomed, so we have large rooms, full bathroom with bathtub, a spacious living room with sofa, armchairs and satellite TV, kitchen with hob, oven, fridge and microwave along with a terrace.